Pearl Powder is an anti-aging, refining, make your skin glow powder that you will want to try.  Click here if you didn't get a chance to read 3 Gorgeous Ways Pearl Powder Can Transform Your Skin.
Now that you have a good idea of why to use pearl powder, let's talk about how to use it for best results.
3 Ways to Use Pearl Powder
1) Mix Per Use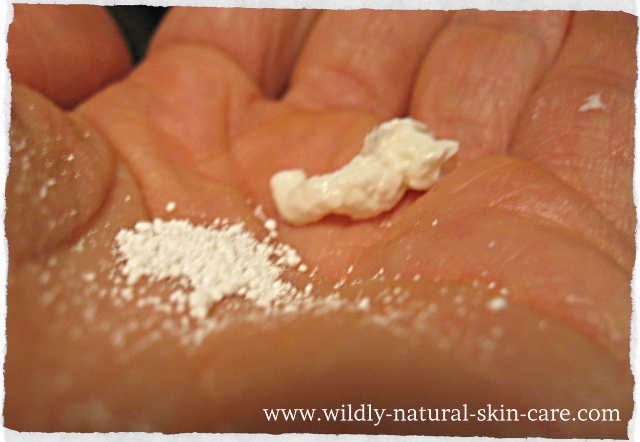 An easy and quick way to use Pearl is to mix it up as you go. This is great if you want to try it, or don't have a good way to mix a big batch at once. It is also sweet to make sure you are using enough.
Use it in the morning.
After cleansing and toning, feed the skin with oil.
Allow that to absorb some.
Then put ½ to 1 teaspoon of pearl powder on the palm of your hand and put as much cream as you normally use. Which cream you use is up to you, it is more for the carrier effect that you need it. You could also use an oil.
Mix the cream and the pearl powder together in your hand. You'll have a white, opaque mix.
Put a streak on your forehead, both cheeks, chin, and upper lip and nose. Then work that out evenly in upward strokes until it is blended smoothly. Apply some on your neck as well.
2) Pre-Mix a Big Batch
You want ½ to 1 teaspoon of pearl powder per application. You will have to some math to figure out how much you need to add.
>>>>>>1 teaspoon = 2 grams<<<<<<<
 Use the same amount of cream (about ½ to 1 teaspoon), so basically you are adding equal parts pearl powder to your cream base.
>>>>>>If you have 2 ounces of cream, you'll want to add 2 ounces of pearl powder.<<<<<<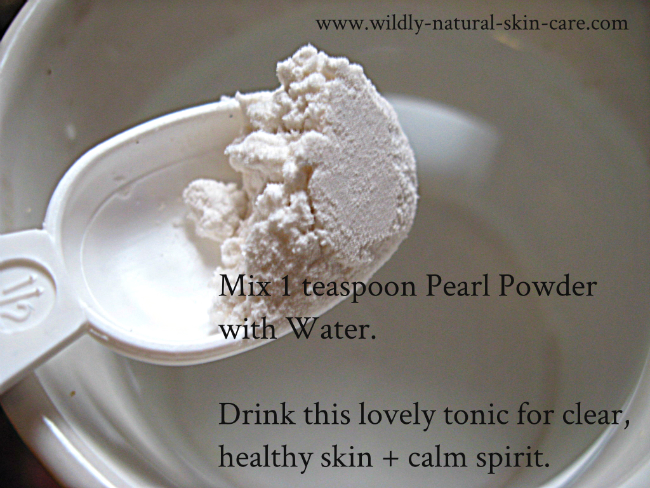 3) Internal Use
A serving size internally is about 1 teaspoon and you can take up to 3 per day.
Just mix the pearl powder with a little pure water and drink it down.
Some sources say to place the pearl powder under your tongue first and let it dissolve. Then rinse it down with water. Try a few different ways and see which you like best!
If you are using it internally, you have to make extra sure that you are getting pure Pearl Powder, with nothing added! That is crucial.
Here is a good source of pure Pearl Powder for internal use.