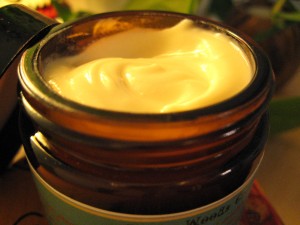 A natural skin cream is a blend of oils and waters that are binded together. The addition of essential oils, extracts and natural preservatives add aesthetic and therapeutic value while increasing shelf life.
Natural skin cream is one of the most challenging preparations to make, as oils and waters repel each other and so an emulsification can be complex. Emulsification involves temperature control of both oil and water phases, getting the blending time just right, and preventing separation from occurring.
A truly natural skin cream can also be hard to find. There are some companies that make them, either using very sanitary operations and no preservatives or natural preservatives, including essential oils. Here are my favorite companies that make truly natural creams:
I choose to avoid chemicals for skin care so I often make my own natural skin creams. There is infinite variety and experimentation- fun, fun, fun! Natural skin creams are great for dry skin- face and whole body- as they are very rich and exquisite. A tiny pinkie-fingerful goes a long way. They are even heavier than straight oils.
One of My Favorite Formulas
Madame's Olive Oil & Herbs Cream
This recipe makes a 19 oz batch, enough to keep you smooth for a long time (and your friends and family). Or you can cut the recipe in half if you like.
Get all of your ingredients for this cream here.
Oil Phase
Extra virgin olive oil (infused with lavender, dandelion flower, red clover flower, yarrow flower and calendula) 6 oz
Coconut oil 2.7 oz
Beeswax 1 oz
Lanolin ½ teaspoon
Water Phase
Borax 1 teaspoon
Rose Water 3 oz
Lavender Hydrosol 4 oz
Optional Ingredients
Leucidal (a natural preservative) 1 tablespoon
Synergy (antioxidant blend) 1 teaspoon
Directions:
Using the double boiler method, melt the oil phase in a Pyrex measuring cups until the oils and fats are completely melted. Allow to sit until the oils begin to solidify again. Meanwhile, turn the heat off and put the water phase into the double boiler in a separate Pyrex cup. When the oils are almost solidified, slowly add the water phase to the oil phase, beating continually with an egg beater. Emulsification is when a cream forms. Be sure to incorporate all the water into the oil.
Lastly, add the essential oils and beat in gently. Pour into clean containers and let thicken.
Purchase all of the the ingredients to make the natural skin cream.
Method Behind the Ingredients
This cream has a natural scent and is a true olive oil cream (olive oil is the main ingredient, not a speck somewhere down the ingredient list!). It is quite rich and heavy and is well suited for very dry skin or used in small amounts. Lanolin is added to make this a rich cream suited for dry skin, babies and the elderly as well as on stubborn dry areas as a therapeutic aid.
Extra virgin olive oil is an effective skin cell regenerator. It is the first pressing of the olive and contains the highest amount of nutrients. It attracts moisture while still allowing the skin to breathe. Madame Czolba's Olive Oil & Herbs Cream is skin softening and will help to keep the skin supple and youthful.
Coupled with the benefits of extra virgin olive oil are the herbs infused in it. Additionally rosewater and lavender hydrosol are toning and healing.
This rich cream can be used on the face and neck. It has a smooth and creamy texture and is unscented so gentle enough for the most sensitive skin. The cream may take a few minutes to be fully absorbed and only a small amount is needed.
I use natural skin creams much more in the winter. I've also gotten some people hooked. By adding extra special ingredients and oils, green tea extract, hydrosols and precious essential oils, to name a few, folks' skin heals and becomes youthful like never before.
Here is a comment I've received about this particular cream:
"I love this. It worked great as a protectant and moisturizer in the winter and is light enough to use during the warmer weather too. It kept my face protected from winter wind and it kept it from being too dry in the winter too. I also used it on my hands at bedtime.
It also worked to remove "Gorilla Glue" from my hands. The directions on the Gorilla Glue said to use an emollient." –Marjie D.