Comfrey oil and comfrey salve have basically the same medicinal properties. The differences are 1) in the addition of beeswax in the salve and 2) the end use for the creation.
Beeswax is a binder, a thickener, and a skin protective substance. To make a salve, it is a third or quarter of the final product (recipe below).
A salve makes for easier application. I also prefer salves for on the road and for many medicinal applications. For instance, myself and others that have used my products use salves rather than oils for:
Diaper rash
Cuts and scrapes
Torn nails and cuticles
When applying a band aid
For the lips
For upper thigh chafing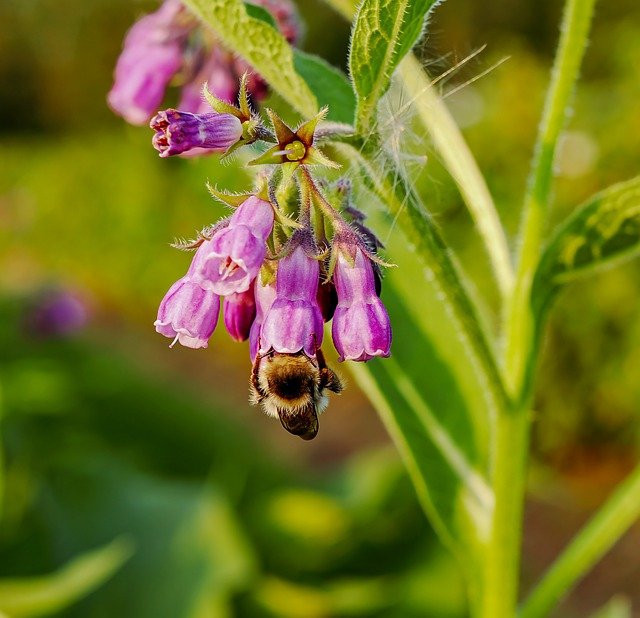 Comfrey is a potent plant. It is a major skin repairer, with the ability to heal wounds really fast. So fast, in fact, that care needs to be taken for deep wounds so they don't heal from the top down. Once the bottom layers begin to heal, then apply the salve.
It can be found in the midwife's bag, the farmer's medicine cabinet (useful for animals wounds of all kinds), a mother's apothecary and a traveler's first aid kit.
Comfrey Salve Recipe
Ingredients:
Comfrey oil 3.2 oz
Beeswax 0.8 oz
Directions:
This makes 4 oz total. Set up a double boiler using a pan with a few inches of water and in it put the Pyrex container. Put the oil in and add beeswax until it is at the 4 oz mark. Turn the stove on and monitoring closely, stir with a chopstick periodically to help melt and distribute the beeswax. When all the wax is melted, pour into a glass or metal container. Allow this to cool and harden. It will take an hour or two.
This recipe can be increased or decreased using a 1:4 beeswax to oil ratio.
To use, simply scoop some of the salve and apply.