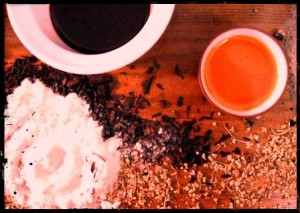 Making a homemade facial cleanser can be quite simple. My preferred methods are using cleansing grains or powders, oil or food items with an occasional steam.
Ingredients for homemade facial cleansers can be found here.
Why not soap?
Soap strips away the very important skin oil and sets up a cycle of over- or under-production of sebum which can result in more break-outs, dry and flaky skin and a dependency on soap.
Check out this article for 7 Reasons Why You Shouldn't Use Soap.
Suds, bubbles and lather signify saponins, a constituent of some plants and soap that "cut grease". This might be nice for the dishes, but for the face, a more gentle approach will lead to healthier skin.
What does the skin need then?
Exfoliation of dead skin from top layer
Mild drawing out of dead skin, dirt and other residues above from upper layers
To be able to freely breathe and exchange gases with outside air
To produce enough oil to lubricate and protect
In order to do that, let's look at some homemade facial cleanser recipes:
1) Cleansing Grains
Cleansing Grains provide exfoliating, healing and drawing properties, removing surface dirt and excess oil. I rely on this product as my primary cleanser and it can also double as a mask.
Directions for all the Cleansing Grains recipes: use an electric grinder or mortar and pestle to grind the herbs to a coarse to fine powder, depending upon your preference. I prefer a more fine textured mix. Put the herbs in a bowl.
Next grind the oatmeal, rice or other coarse textured grain and put that in the bowl.
Now you can add the clays, amaranth and other smooth textured ingredients.
Stir well until everything is evenly distributed.
Store in a dry container with a seashell for a scooper (or some other scooper!) for easy use.
To use: scoop 1 to 2 teaspoons of scrub into the palm of your hand, wet with water and use this paste to scrub your skin, massaging gently. Rinse with water and pat dry. As a substitute for water, you could use yogurt, rosewater, or honey as the liquid for extra cleansing and rejuvenating effects.
Below are a few of my personal recipes to get started. Originally all of these recipes were sold through my natural skin care shop with positive feedback. You can find ingredients for all of these recipes here.
---
Clear Skin Scrub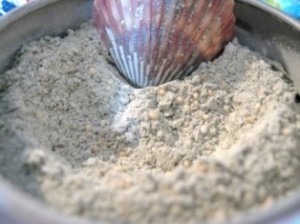 This homemade facial cleanser is specially designed for acne-prone skin, utilizing many healing and beneficial herbs. The herbal combination was selected for their antimicrobial, antiseptic, and soothing abilities.
French green clay is rich in minerals and its highly micronized state allows far more absorption of dirt, dust, oil, contaminants, and make up than any other clay. It helps to draw out impurities from the skin and brings fresh blood to damaged skin cells, helping to tighten and revitalize pores. It is excellent for clearing problem skin.
Oats are mucilaginous and gently healing to the skin. They soothe inflammations and provide a texture that is easy to spread on the face.
Amaranth has a bead-like texture, effective for gentle exfoliation.
Ingredients:
Green clay 1 cup
Kaolin clay 1 cup
Organic oatmeal ½ cup
Amaranth ½ cup
A combination of the following herbs: thyme, spilanthes, sage, elder flowers, comfrey leaf 1 cup
To make follow the directions above :)
You can find ingredients for all of these recipes here.
---
Milk and Honey Cleansing Powder
This is a smooth, sweet way to cleanse your face. It doesn't have any coarseness to it. Honey is antibacterial and a humectant (it attracts moisture). Buttermilk is very soothing and softening. The clay adds just the right amount of pulling of dirt and residue.
Ingredients:
Buttermilk Powder 2 tablespoons
Honey Powder 2 tablespoons
Fuller's Earth Clay 2 teaspoons
Mix together and store in a dry place, no grinder needed.
---
2) The Oil Cleansing Method
The Oil Cleansing Method uses oils and water to deeply clean the skin and create dewy, vibrant, moist skin.
3) Pure Water or Toners
Pure water can be used in the morning with some gentle massaging to remove excess oils.
Toners and astringents in a base of witch hazel or apple cider vinegar will remove excess oils and surface dirt. These are great to use midday to "freshen up".
4) Food Items as a Homemade Facial Cleanser
Many fruits and veggies have cleansing abilities. Do you have any of these on hand?
Avocados
Yogurt
Lemon (dilute this with water)
Simply mash or blend them to a spreadable consistency. Apply to the face with a massaging motion and rinse with pure water.