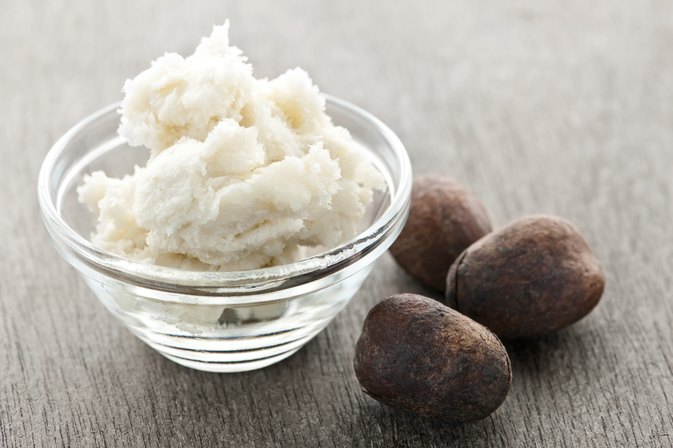 Shea is native to Africa and it is becoming quite popular throughout the world for its highly moisturizing effects. Check out the article on shea butter benefits to learn more about when to use it.
Always be sure to purchase unrefined, pure shea butter that still holds the vital energy of Mother Earth. In this way, you will be nourishing your skin and your spirit :)
I've used shea butter on its own as a skin moisturizer and lip balm, as an ingredient in natural face creams for mature and dry skin and as a main ingredient in body butter specifically for pregnant growing skin. It is a versatile butter and is very healing.
Shea Butter Uses
Here are 5 ways that I personally love to use shea butter! Do you have something to add? Be sure to comment below!
1) As a daily moisturizer, shea butter is protective and has slight sun protective factors, particularly helpful with absorbing UVB rays. It is most suited for very dry or mature skin or in very dry weather. I like to use it in the winter, when it is dry, the wind is blowing and the temperature is very cold. I find that my skin stays moisturized all day and is less prone to windburn.
2) As a basis for a healing ointment, shea butter adds its own medicinal qualities. For this use, follow the instructions in the article Herbal Oils, using the slow heat or stovetop method.
3) Shea butter uses for the feet include healing cracked heels, torn nails and otherwise dry and irritated skin. it can be used in a foot soak, with about 1 tablespoon added to warm water. Soak your feet until the water becomes cool and finish by massaging in more shea butter.
4) As a body butter, shea can be used alone or blended with other healing oils and butters.
Shea butter uses include preventing stretch marks and healing scars.
Here is the recipe that I used to prevent stretch marks during my pregnancy:
Ingredients:
Shea butter 2 parts
Cocoa butter 1 part
Coconut oil 1 part
Directions:
This recipe can be suited to the amount that you want to make. For example, for a 4 ounce jar, it would be 2 ounces of shea butter, 1 ounce each of cocoa butter and coconut oil.
To make, simply melt the cocoa and shea butters and coconut oil in a double boiler just until liquefied. Then pour into a glass jar, cap and allow to cool. This forms a thick balm that can be used all over the body.
5) As an intensive lip balm, eye cream or hand moisturizer, simply use shea butter in its raw state. It is most helpful if you apply before bedtime or another time when you can allow the shea to sink deeply into your skin. Shea butter can also be stored in a smaller container and taken with you for reapplication throughout the day. You will stay moisturized and be much more comfortable with soft lips and hydrated skin!
Whipped shea butter is a bit easier to apply, as unrefined, raw shea is hard in texture.
Here is an Easy Whipped Shea Butter Recipe to try:
Ingredients:
Shea butter
Essential oil of choice (optional)
Directions:
Put the shea butter in a bowl and mash with a fork. Whip with an electric mixer until smooth, fluffy and creamy. Add essential oil and whip some more. Transfer this to a container with a wide mouth and enjoy!
Using unrefined shea butter to care for your body will have you remembering that you are sacred!