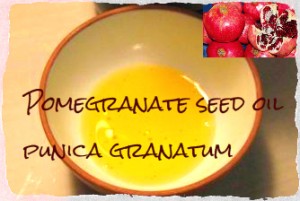 Pomegranate seed oil is used in natural cosmetics and skin care for its anti-aging, nutritive and nourishing properties. Native to Iran, Pomegranate (Punica granatum) has a rich history in the traditional medicines of Ayurveda and Unani.
Here is a great place to purchase the freshest available.
I like pomegranate seed oil for its anti-aging ability and its quick absorption into the skin. I find that it leaves a shiny gloss on the skin surface which is a nice side benefit. It feels somewhat heavy in texture at first, reminding me of glycerin almost, but not quite sticky. It has a nutty smell and is almost bright yellow in color. Be sure to purchase organic, cold-pressed oil for the purest product.
Pomegranate seed oil is specific for problem skin conditions such as eczema and also has been found to be protective against cancers, including breast cancer. It is a wonderful oil for the regeneration of damaged skin in the epidermis (outer skin layer) and is very high in punicic acid. Punicic acid (Omega 5) inhibits tumor necrosis factor and inflammatory disease. The oil also has weakly estrogenic properties, making it vitalizing for women.
The oil has high levels of anti-oxidants that are useful to slow skin aging and counter free radicals. It is a rich source of punicic and ellagic acids, which heal, protect and moisturize dry skin, bring elasticity back and are used for eczema. This oil is a fine ingredient and over 200 pounds of fresh pomegranates are used to produce 1 pound of oil! At Mountain Rose Herbs, you can purchase the best organic pomegranate seed oil.
All parts of the pomegranate plant have medicinal uses (roots, bark, flowers, fruits and leaves). Pomegranate has been intertwined in religious and spiritual practices since ancient times and is associated with the qualities of fertility, abundance and prosperity.
The peel is an astringent with anti-inflammatory and antifungal activities. It is also used as a whitening agent for the skin and for healing wounds. For these purposes, the peel can be made into an ointment for skin repair. The juice is protective against UVA and UVB-induced cell damage. It diminishes wrinkles and inflammation from sun overexposure when used as a drink. The seeds are used for beauty and fertility in Ayurveda.
---
Reference: Bhandari PR. Pomegranate (Punica granatum L). Ancient seeds for modern cure? Review of potential therapeutic applications. Int J Nutr Pharmacol Neurol Dis [serial online] 2012 [cited 2012 Sep 1];2:171-84. Available from: http://www.ijnpnd.com/text.asp?2012/2/3/171/99469
Photo: Pomegranates by joergens.mi (Own work), via Wikimedia Commons (bottom photo of fruits)