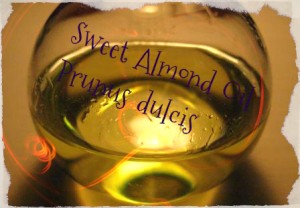 Almond oil for skin is quite versatile. It is very light and does not leave excess oil on the skin. It has been used in many cultures for its penetrating and moisturizing abilities and ease of use.
The simplest way to use almond oil for skin is too add some essential oil to it and use as is. It can be used on the whole body, including the face. Being nearly odorless, it makes a wonderful aromatherapy massage oil.
Be sure to purchase cold-pressed, organic almond oil.
I like to buy my almond oil for skin from Mountain Rose Herbs.
Almond oil has a high nutritional value, being particularly vitamin E and fatty acids. It is a widely used carrier oil that is suitable for all skin types. Almond oil is one of the best for making herbal-infused oils and for delicate facial oils. I have also used it in skin creams and as a body oil. It is really useful on its own and to "cut" heavier oils to create a lighter finished product.
Dong Quai Almond Beauty Oil
Dong quai (Angelica sinensis) is a medicinal herb native to China. It is often used as a complexion herb, decreasing blemishes and encouraging healthy skin and blood flow. It is also an estrogenic herb, making it potentially useful in preserving youthful skin. Dong quai is also used for eczema, alopecia and rosacea. All of the essential oils in this recipe are useful for preventing wrinkles and fine lines.
Ingredients:
Dong quai root, organic 2 pieces
Almond oil 2 ounces
Frankincense essential oil 10 drops
Myrhh essential oil 8 drops
Carrot Seed essential oil 5 drops
Directions:
Make an herbal-infused oil with the dong quai root and almond oil. Strain this and add the essential oils. This can be stored in a narrow mouth bottle and used as a facial oil.
As with any natural skin care oil, first apply water to the skin in the form of flower water, plain water or another toner, then massage in some almond oil while the skin is still damp. This helps to lock in the moisture and creates that dewy, moist skin that we all love.
Ayurvedic Almond Oil-Chickpea Mask
This is traditionally used by Indian women on their wedding day to cleanse, tone and invigorate the skin on the whole body. It combines the antiseptic, blood circulating properties of turmeric with the cleansing chickpea powder and moisturizing almond oil. Use this weekly or for special occasions when you really want to glow! This recipe is enough for the whole body.
Ingredients:
Chickpea powder 1 cup
Turmeric powder 3 tablespoons
Almond oil- enough to make a paste
Directions:
Mix ingredients together. Apply and allow to sit until dry. Remove by rubbing with hands, which will exfoliate the skin. It is also known to remove fine hairs. Rinse the remaining mask off with water and be sure to apply moisturizer.