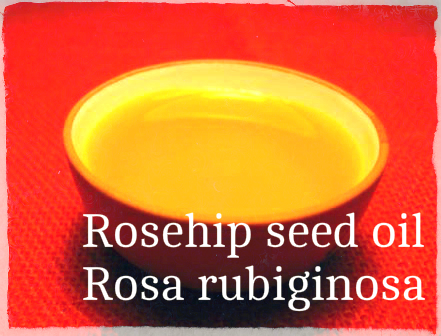 Rose hip seed oil is extremely high in gamma-linolenic acid and Vitamin C (20 times more than an orange), making it ideal for keeping skin youthful and regenerating cells. It is often used to heal scar tissue and prevent fine lines. It has been used by native Chileans for centuries.
I love the oil from this store.
The cold-pressed oil is used on its own and as part of blends in creams, skin oils, and serums. I've added it as a part of fine skin creams, in a therapeutic oil for healing scars and nerve damage/pain and in anti-aging serums.
The seed pods are called "hips" and they are the fruit of the rose plant. The teeny, tiny seeds within are where the oil lies and it is forced out through a mechanical pressing. Rosa rubiginosa is the most commonly used species of rose for the oil. The oil is amber to orange and has a nutty scent. It needs to be kept refrigerated as it is very susceptible to oxidation and even then the shelf life is about 2 years.
If you buy a larger quantity, you can rebottle into a 1 ounce bottle, add a bit of vitamin E and some carrot seed essential oil. This will help to preserve it for about 6 months.
Rose hip seed oil is said to be the best oil available for anti-aging and skin rejuvenation. It is the only natural oil with retinoic acid (Vitamin A), which delays the effects of skin aging and increases the levels of collagen and elastin. We also know that plant acids, like retinoic acid, are natural exfoliants and so help to slough off dead outer skin to reveal the new, brighter skin underneath.
Being a "dry" oil, it easily soaks into the skin and does not leave grease. It penetrates almost immediately and can be used undiluted. As always, for best results apply the oil to your skin when still damp from washing or spritzing with floral water.
Rose hip seed oil has been used successfully to treat a whole host of skin problems:
Scars from surgery, tissue trauma, burns and acne
Eczema
Psoriasis
Stretch marks
Wrinkles and premature aging
Hyper-pigmentation and age spots
Dermatitis
Brittle nails, dry hair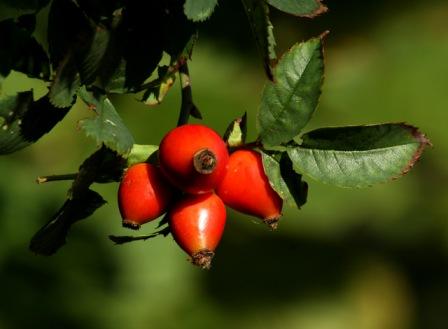 Doesn't that list make you want to go buy some?? I know it makes me want to bottle some up and use it daily.
You can buy the best quality rosehip seed oil here.
Here is a recipe that I used to heal some very private scarring accompanied by nerve damage…after childbirth..with good results:
Scar and Nerve Injury Repair Oil
Ingredients:
Rose hip seed oil 1 part
Castor oil 1 part
St. John's wort (Hypericum) infused extra virgin olive oil 1 part
Directions:

Simply mix these in the proper proportion and shake well before using. I have read some reports that using this oil everyday can cause a bit of an orange hue on fair skin. However, I have not had that experience so just be aware of the possibility.