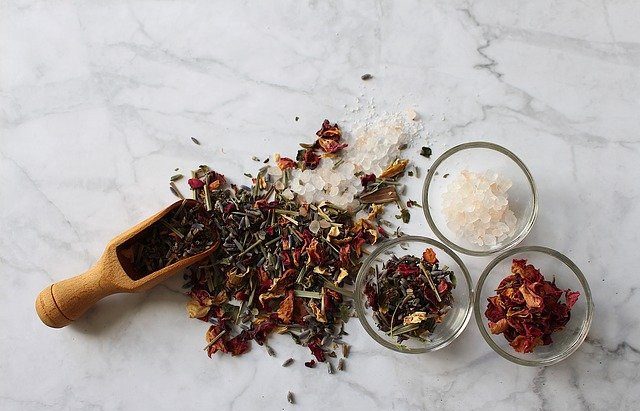 You can craft or find a bath salts recipe for your particular needs: sore muscles, relaxation, purifying or more. Bath salts are healing, relaxing and can help to relieve minor aches and pains.
In addition, sea salt baths are detoxifying and cleansing. They can be infused with essential oils for an aromatic an delightful experience and crafted with herbs for therapeutic effects. Bath salts are both easy to make and inexpensive. All of the ingredients can be found at Mountain Rose Herbs.
Bath salts are a combination of minerals, clays and herbs.
The basic ingredients for any bath salts recipe:
-Sea salt or Epsom salts
-Sea salt is a detoxifier and aligns the body's electromagnetic field. Epsom salts contain magnesium, which is required for muscle functioning. It can help to ease pain and break up lactic acid that has formed from overexertion.
-Borax is a natural mineral called sodium borate. It is an alkaline water softener and a cleanser.
-Baking soda is another mineral called sodium bicarbonate. It is a skin softener, cleanses and deodorizes and provides alkalinity.
-Clays are detoxifying, drawing and cleansing
–Essential oils
-Herbs are optional
A very basic recipe is to simply use 1 to 2 cups of sea salt in the bath. You could add essential oil if you had it or substitute Epsom salts.
Following is a more elaborate recipe for making bath salts. To this framework, you can get really creative with what you have on hand!
Directions:
To make these, first mix all the dried material together in a container with a lid. Then add the essential oils, stir through the dry ingredients, put the lid on the container and shake, shake, shake! Allow this to settle for a few hours and then give it another shake. You want the essential oils to really be strong, as they will be greatly diluted in the bath.
Keep these out of reach of children.

Ingredients for a basic recipe:
2 cups borax
2 cups Epsom or sea salt
1 cup baking soda
½ cup kaolin clay
1/3 cup powdered herb
150 to 200 drops essential oils
3 fun bath salts recipes for different needs
Recipe 1: Sooth Those Sore Muscles Bath Salts
2 cups borax
2 cups Epsom salts
1 cup baking soda
1/3 cup peppermint, powdered
50 drops each essential oil: eucalyptus, rosemary, lavender
30 drops peppermint essential oil (optional)
Recipe 2: Ritual Soak Bath Salts
½ cup baking soda
½ cup sea salt
1/3 cup mugwort herb, powdered
11 drops sandalwood essential oil
9 drops lavender essential oil
Recipe 3: Aphrodisiac Salts
1 cup borax
1 cup baking soda
½ cup rose petals, powdered
20 drops rose geranium essential oil
20 drops ylang-ylang essential oil
10 drops patchouli or sandalwood essential oil